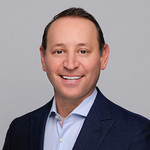 John Cuomo
Chief Executive Officer and President of VSE Corporation
John was appointed Chief Executive Officer and President of VSE Corporation in April of 2019. John brings 20 years of experience in the aerospace distribution and services market industry.
John previously served as Vice President and General Manager of Boeing Distribution Services Inc. Prior to Boeing's 2018 acquisition of the Aerospace Solutions Group of KLX Inc., John served as its Vice President and General Manager, Consumables Management business beginning in July 2014. From April 2000 to 2014, John served in multiple roles and functions at B/E Aerospace (which was the parent company of KLX, Inc. until 2014), including Vice President & General Manager and Senior Vice President, Global Sales, Marketing & Business Development. Prior to joining B/E Aerospace, John served as an attorney at a large multi-national law firm practicing commercial law, mergers and acquisitions and litigation.
John has a Bachelor of Science in International Business, a Juris Doctorate from the University of Miami, a Master of Business Administration from the University of Florida and completed the Advanced Management Program at The Harvard Business School.
Steve Griffin
Senior Vice President and Chief Financial Officer
Stephen Griffin serves VSE as Senior Vice President and Chief Financial Officer. Steve is responsible for VSE's finance, accounting, financial planning and analysis, internal audit, tax and treasury functions. Steve brings more than a decade of experience in senior finance leadership roles with GE, most recently as Chief Financial Officer of Engine Services at GE Aviation. In this role, Griffin led the financial organization for a $15 billion engine overhaul, repair and parts sales division, which included commercial pricing, contract restructuring and financial reporting. Earlier in his career, Griffin served as the CFO for GE Aviation's Supply Chain Division, a role in which he led a team focused on product cost, sourcing, cash management and capital expenditures. While at GE, Griffin also served as a board member for multiple global joint ventures. Steve received a B.S. in Finance and Accounting from Boston College, and an MBA with high distinction from the University of Michigan.
Farinaz S. Tehrani
Senior Vice President and Chief Legal Officer
Farinaz Tehrani serves VSE as Senior Vice President and Chief Legal Officer. Farinaz is responsible for VSE's legal, compliance and regulatory functions. Farinaz brings more than two decades of expertise in senior legal and compliance roles at global public and private companies across multiple industries. Throughout her career, Farinaz has been integral in building and leading high performing teams, while driving the effective oversight of legal, governance and regulatory matters for both established and emerging growth organizations. Farinaz began her legal career at the global law firm of Hogan Lovells LLP. She received a Juris Doctorate from Georgetown University Law Center and a B.A. in Economics, cum laude, from Tufts University.
Krista Stafford
Senior Vice President and Chief Human Resource Officer
Krista Stafford joined VSE Corporation as Senior Vice President and Chief Human Resource Officer in January 2020. She specializes in organizational development, culture transformation, executive compensation, organizational design and employee engagement. She has broad expertise in company-wide human resources initiatives that drive business results through people.
Krista was previously the Vice President, Human Resources at Boeing Distribution Services, a subsidiary of the Boeing Corporation. She has more than 15 years of experience in Human Resources, Learning and Organizational Development. Prior to joining the aerospace industry, Krista spent over 20 years in the restaurant industry both running operations with P&L responsibility and serving in a human resource and training capacity. She has a Master of Science degree in Human Resource and Organization Development and a Bachelor's degree in Hotel/Restaurant Institutional Management from Johnson & Wales University.
Chad Wheeler
President and COO, Wheeler Fleet Solutions
Chad Wheeler was appointed President and COO of Wheeler Fleet Solutions, in July 2013. He is involved in the executive management of day-to-day operations, government contract administration, new business development, supply chain initiatives and facilities management. He serves as a member of the operational board for Wheeler Fleet Solutions, and has played an active role in the company since 1991.
Previously, Chad assumed various roles at Wheeler Fleet Solutions, including Senior Vice President of Operations, Senior Vice President of Sales and Marketing, and Marketing and Sales Manager. While serving as Marketing and Sales Manager, Chad coordinated implementation of Wheeler Fleet Solutions' MIP (Managed Inventory Program) which is used at over 275 United States Postal Service Vehicle Maintenance Facilities throughout the country. Chad graduated summa cum laude from Indiana University of Pennsylvania in 1998 with a degree in Marketing.
Ben Thomas
President, VSE Aviation, Inc.
Ben Thomas is the President of VSE Aviation, Inc. (including the former 1st Choice Aerospace and Kansas Aviation) and GlobalParts, Inc. Mr. Thomas is responsible for the strategic oversight of the MRO services and product distribution businesses, as well as sourcing, customer relationships, capital allocation and acquisitions. Previously, Mr. Thomas managed aftermarket growth strategies in the aerospace consumables market for Boeing Global Services and KLX Aerospace Solutions. He has a Master of Business Administration from Harvard Business School and a Bachelor of Science in Industrial and Systems Engineering from the University of Southern California.
Charles (Chuck) Anderson
FDS President
Charles (Chuck) Anderson is Vice President and General Manager for the Federal and Defense Services (FDS) segment, effective May 8, 2023. Chuck oversees all operational direction for FDS. Chuck will lead the FDS team both through the transition of FDS to Bernhard Capital Partners (BCP) and remain as the leader with BCP after the transition.
Chuck Anderson brings more than 43 years of experience in the United States Army and in the Government Services industry, with a proven track record of driving growth, on-contract performance, continuous improvement, innovations, and technologies. Prior to joining VSE, he served as President of PAE's Global Mission Services, where he led 21,000 employees in 72 countries. Chuck has a history of planning, coordinating, and conducting operations worldwide, with an emphasis on training, security, facility services, O&M, engineering, enterprise IT, aviation, medical, and logistics.